Adult Squash and Squash 57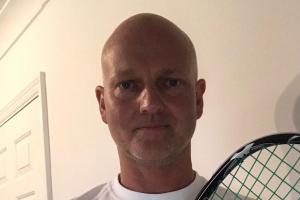 There are three well-maintained and heated squash courts, bookable from 7am to 10.30pm every day of the week via the Online Booking System. The Club has a thriving Squash and Squash 57 community and welcomes new members from Juniors to Vintage, regardless of standard.
Social Adult Squash and Squash 57
There are club sessions on Wednesday morning from 9.45am to midday, and on Friday when Club Squash Coach Paul Steward is in attendance offering advice and coaching, running from 4.30pm to 6.30pm for Juniors and from 6.30pm to 8.30pm for Adults.  There is a further club session on Sunday from 3.45pm to 7.00pm which is mainly devoted to Squash 57 (Racketball).  Club Squash 57 rackets are available to members wishing to try out the sport.
All members are welcome at all these sessions, just come along and have a game.  
If you are considering trying squash for the first time or returning to the game, a Friday club night would be the ideal time to do it.  Please feel free to come along – just contact Paul Steward or Jeremy.
Team Squash
We run several teams in the Surrey squash leagues including the Surrey Cup, the Summer Surrey Cup, vets and vintage.  More information can be found at:
Club Tournaments
Club tournaments are held annually and include the main club championship (which includes a Plate Tournament for 1st round losers), Handicap, Veterans, Doubles and Juniors.  An annual open tournament attracts players from all over the country.
Box Leagues
We run monthly box leagues for both Squash and Squash 57 in which players of all standards compete.  Members can access the box leagues from:
https://dorkingltsc.leaguemaster.co.uk/
New members can also use the above link to register in the leagues.
To book courts, members can use this link below. Log in details for new members are provided by the club administrator on joining.
http://dorkingltsc.clubsolution.co.uk.
The way the Squash and Squash 57 leagues operate can be found here:
Please feel free to email any questions regarding the leagues to squashleagues@dltsc.co.uk.