Adult Coaching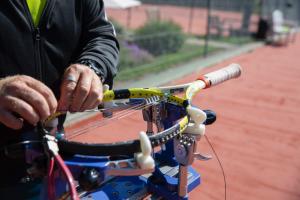 There is coaching for beginners, rusty rackets, improvers and advanced players. If fitness is on your agenda then cardio tennis is an option. We also have links to a local centre for adults with learning difficulties and run a regular disability group coaching session and also offer individual lessons.
There is Ladies & Men's midweek social tennis through to Ladies and Men's Team Training. All of this and private lessons for individuals and groups of any age. For full details of the coaching available for adults please see Adult Coaching.

Rusty Rackets/Beginners/Improvers
If you are new to tennis we will make it as straightforward as possible for you to learn the sport; just contact our Head Coach when you join the club. The club offers a free taster session to get you started. Probably you will be steered towards group or private lessons to get you up to speed. You can have a term's worth of lessons before needing to decide if you want to join the club.
Once you have mastered the basics, our coaches will introduce you to some of our organised social sessions. You will be able to play with other members of similar ability. For many members, playing in regular social sessions means they can be on court several times a week, enjoying the company of other members.
For former players looking to get back into tennis, the initial path mirrors that for beginners, although you are likely to join more advanced groups and be introduced to organised sessions more quickly. Anyone showing higher skill levels than the average member is likely to be snapped up by our team captains, to join one of the many teams we have in a number of leagues.
Whatever level of ability you might have we will welcome you into the friendly atmosphere of our club. See you on court!