Junior Tennis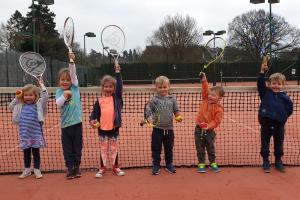 Our juniors start as young as 3 years old with 'Tots Tennis', under 10's with 'Mini Tennis' to 'Yellow Ball', Juniors over 9 and Students over 17 up to 22 years old.
Head tennis coach, Brian Love, runs in-house tournaments catering for all ages and abilities, and our Junior Committee co-ordinates a calendar of events to keep us all connected!
Junior club night runs on Fridays during term time from 4pm to 7pm to which all junior members are welcome to join in with some social tennis games. Although our junior members are welcome to stay for all of club night, the coaches arrange supervised tennis games as follows:
Session 1 for 5 to 10 years old & beginners: 4.00pm to 5.00pm
Session 2 for 11 years plus 5.00pm to 6.00pm
Mini Tennis Programme
Structure
Dorking Tennis Club mini tennis programme is based on three colour-coded LTA stages, red, orange, and green. Appropriate court sizes and equipment allow players to learn the game in a way that suits their physical size, emotional maturity and technical/tactical skill.
Junior Open Tennis Tournament (formerly known as Audrey Hughes Tournament) - News and Results 2019 
Dorking Lawn Tennis & Squash Club ran its 2019 Audrey Hughes Junior Open Tennis tournament, with the generous sponsorship of Surrey Hills Solicitors during w/b 29th July.
It was another successful week for the 69th Audrey Hughes Junior Tennis Tournament again kindly supported by Surrey Hills Solicitors.  The competition is open to non-members and is run in a round robin style for children aged between 10 and 17 featuring singles, doubles and mixed doubles.  This tournament gives the children a chance to play many matches in a relaxed, friendly atmosphere where they can also socialise and make friends with children from other schools and tennis clubs.