Tennis Coaching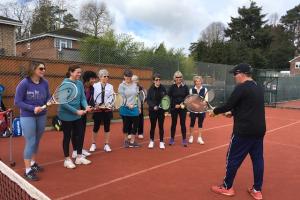 Our coaching team, led by Brian Love – LTA licensed level 5 Coach and dbs checker offers advice for prospective and new members to help joining the club and entering into the array of coaching and social tennis sessions available.
Further details about all the sessions on offer – from Tiny-Tots to Team Training, group and private – are available from the menu.
You can contact Brian to discuss any of these sessions by email at dorkingtennis@gmail.com or by calling him on 07712 557076.
The coaching team works with the local primary schools offering coaching to pupils throughout the year. The club has links to the following schools:
St. John's Primary, St. Paul's Primary, St. Martin's Primary, Powell Corderoy Primary, North Downs Primary, Surrey Hills Primary
Cardio Tennis is a fun, sociable group fitness class set on a tennis court and open to people of all ages and abilities. Supported by music and qualified instructors, you'll get to hit lots of tennis balls during your class and have a great cardio workout at the same time.
Brian Love (LTA level 5)
As well as being Head Tennis Coach, Brian also offers a racket demo service where you can try out new rackets and a stringing service – further details and prices can be found by clicking here
Please get in touch with Brian on dorkingtennis@gmail.com or 07712 557076