REPORT OF THE DORKING JUNIOR OPEN TENNIS TOURNAMENT (Formerly known as Audrey Hughes Tennis Tournament)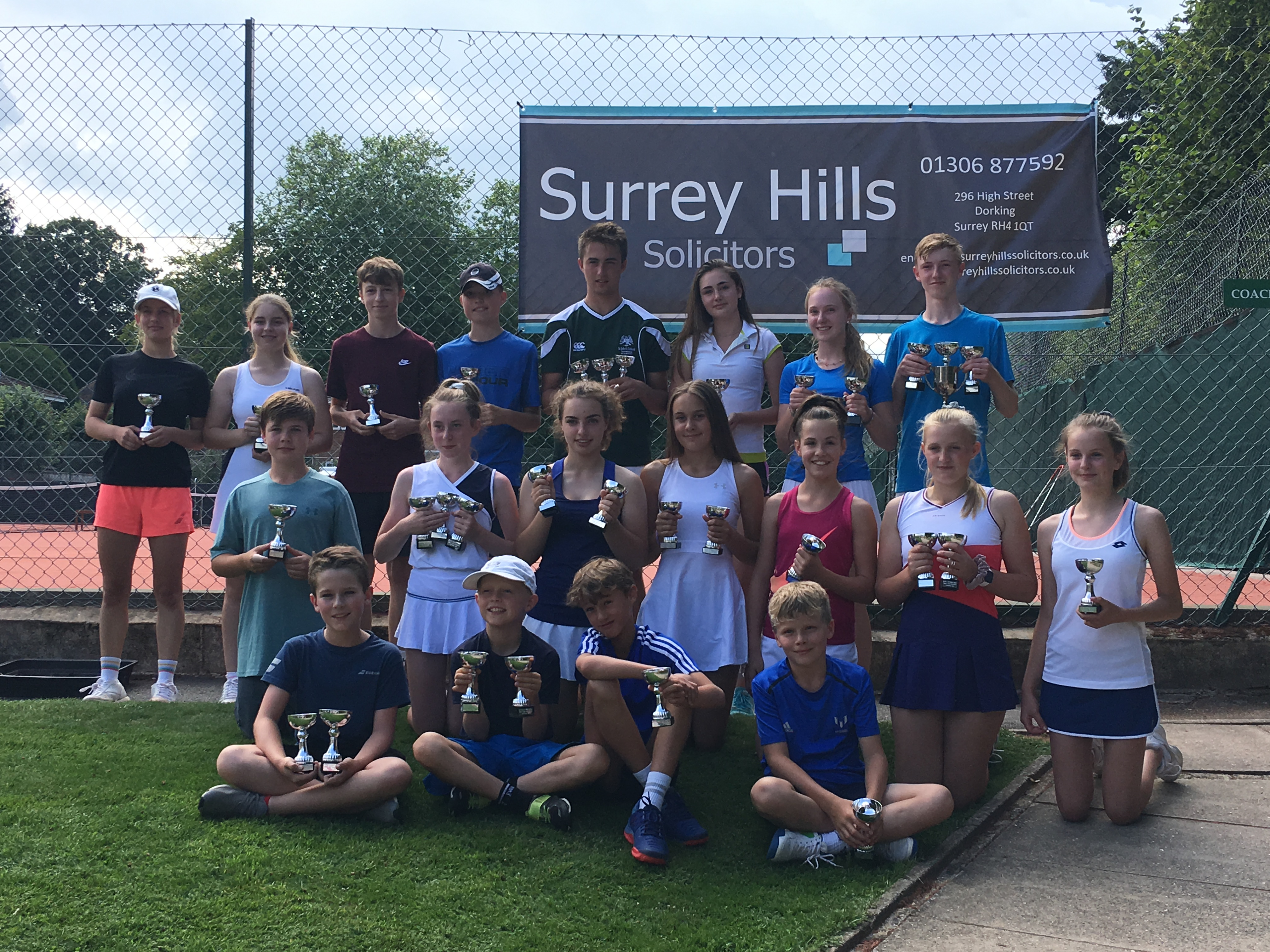 It was another great week of tennis at Dorking Lawn Tennis & Squash Club when they held their annual junior open tennis tournament formerly known as 'The Audrey Hughes' from 29th July to 2nd August, kindly sponsored again by Surrey Hills Solicitors.  Competitors come back every year, bringing parents  and grandparents who have played in this event which has been running since the 1930's.  Over 50 children aged 8 -17 played over the week in Singles, Doubles and Mixed Doubles in this fun, sociable tournament.
Notable performances came in the 14-17 age group, from brother and sister duo, Archie and Rosie Stokoe, who both won the singles trophy.  Archie also won the boys doubles with Sam Laslett and mixed doubles with Georgina Holden and Rosie came runner up to her brother in the mixed doubles with Sam Laslett.
Harvey Steer won singles and double, with Dom Farrant in the 10/11 category and Izzy Barlow took the singles and doubles with Emily Endacott titles in the 12/13 girls events. 
Full results as follows:
10/11 Boys Singles:  Harvey Steer beat Dominic Farrant 6-3, 2-6, 1-0.
12/13 Girls Singles:  Izzy Barlow beat Emily Endacott 6-1, 6-3
14-17 Boys Singles:  Archie Stokoe beat Sam Laslett 6-1, 6-4
14-17 Girls Singles:  Rosie Stokoe beat Mila Deist 1-6, 6-4, 1-0
10/11 Boys Doubles:  Harvey Steer & Dominic Farrant beat Ben Buckle & Will Kemkers 6-2, 6-2
12/13 Girls Doubles:  Izzy Barlow & Emily Endacott beat Jemima Collins & Freya Davies 6-0, 6-0
14+ Boys Doubles:  Archie Stokoe & Sam Laslett beat Hugh Cameron-Jenkins & Gabriel Correia 6-0, 6-0
14+ Girls Doubles:  Natasha Clancy & Jess Yates beat Rosie Runnicles & Mila Deist 6-2, 6-4
10/11 Davis Cup Event:  Team Nadal (Harvey Steer, Ben Buckle, Max Lam) beat Team Murray (Dominic Farrant, Will Kemkers, Alex Goodall)
12-14 Mixed Doubles:  Charlie Samme & Emily Endacott beat Callum Glasspool & Rosie Runnicles 2-6, 6-4, 1-0
14-17 Mixed Doubles:  Archie Stokoe & Georgina Holden beat Sam Laslett & Rosie Stokoe 6-3, 6-7, 1-0