Club Night Newsletter - 9th October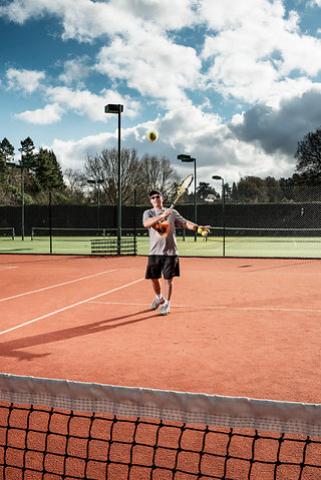 Hi Everyone
Back after a tennis trip with some of our enthusiastic players who love a bit of tennis in the sun. An all female group of players seeking technical & tactical perfection with some laughs along the way... Some observations a bit later!! 
Club News
Don't forget the next social tournament on Sunday 20th October. The Royles are in charge if you have any queries... Details on the notice board in the club house along with sign up sheet. Always a great event...
 Men's toilet update... The flusher is fixed but can you flush a bit more delicately as it is sensitive to the touch! Think about how you should play a lovely drop shot with silky hands. As opposed to wood hands!!
 Don't forget Claire's party on 19th October. I'm sure there are a few tickets still going. Unfortunately I wont make it as I have a wedding to attend... Not my own!! 
Well done boys u12s beating Farnham (Dom Farrant & Ben Buckle) 
Well done girls u14s beating St Theresa's (Izzy Barlow & Emily Endacott).. The nuns wont be happy! 
General News
Murray & Norrie lose in 2nd round of Shanghai Masters. Edmund out in 1st round! 
Looks like Murray will play the Aussie Open.. 
Heather Watson through in Tianjin Open!! Harriet Dart out... 
Why Go on a Tennis Trip?? 
- Luxury all inclusive hotels with great facilities & great views
- You laugh more than you ever thought you could
- You are only 1 minute away from the next Gin & Tonic
- You get to experience Boney M songs played on a botempi organ sung in a strong Greek accent
- You can laugh at being compared to many different people or animals... Quasi Modo, hippos, rhinos, Stevie Wonder
- Being around friends is the best tonic in the world....
- It's just away from everyday life.....
Thought of the Week
Coaching Tip of the Week
 In doubles, use the serve down the T... Restricts the down the line return and not such an easy angle to return... This makes the interception easier.
Also, it's the lowest part of the net.. 3 feet! and the shortest distance to reach your opponent...
Just try it!
 Jokes of the Week
 "I heard a bloke singing do-re-mi the other day... I thought to myself, he'll go fah!!"
See you at club night 630pm onwards this Wednesday.... And don't forget Sundays 10-12pm... Social tennis and a drink after... if you are sociable!!
Have a good week
Brian
Brian Love 
Head Coach
Dorking Lawn Tennis & Squash Club
07712 557076