Club Night Newsletter - 8th January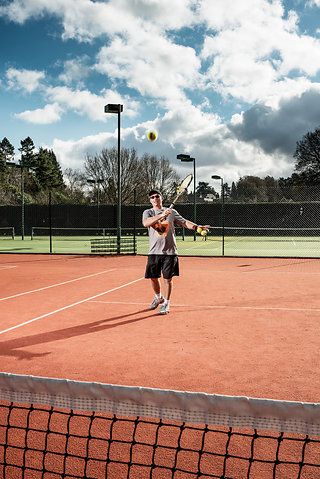 Hi Everyone
So we've had enough of happy new year already... How long does it go on for?? When is the cut off when it doesn't make sense to say it?? But hope you all had a good Xmas!!
GB doing well over in Australia at the ATP Cup. Australia next in the quarters.
Konta loses in 1st round to Strykova at Brisbane International event. Hopefully this is the year she shows more consistency..
Club News
Grace matches are up and running with some good matches already. Love hearing the stories of how the matches have played out. Analysis is a great part of sport. Reflecting on chances and missed opportunities with another game ahead to try and rectify everything. My most satisfying conversations are when players have lost but still loved the match.
Check out the club house... Fresh paint and big photos.. No excuses not to pop in after a game and enjoy a nice drink when the bar is open. If not then grab a tea or coffee from the kitchen... But don't forget to wash up!!
Recommended Sports Documentaries to Watch
BBC iPlayer - Geraint Thomas : The Road Will Decide... Access to Tour de France winner
Netflix - Free Solo.. Amazing footage of 1st person to climb El Capitan without ropes!!
Netflix - The Dawn Wall - Similar to free solo but with ropes but 3000ft of impossible rockface
Netflix - Icarus - The truth about doping in sports
Netflix - The Game Changers - truth about meat, protein & strength & plant-based diets
Joke of the Week
I made a graph for my past relationships..
It has an ex-axis and a why-axis!
Coaching Tip of the Week
Don't be static at the net... Slower reactions and generally flat-footed. Be on the balls of your feet and keep moving.. Like you are on a trampette..Quick bounces! As opposed to musical statues without the music!
Check out these top 20 reaction volley rallies from the pros..
https://www.youtube.com/watch?v=WBkICqMy1BE
Some of you may be doing Dry January.. Good luck and a few reasons not to!!
Rubbish weather, short days and sod all to look forward to until spring!
What's the point when you just start again February 1st!
You'll be de-friended.. people don't care especially with the facebook updates!
Red wine is good for the heart!
Alcohol makes you happy!
Only 8% stick to resolutions so you will probably end up failing and feel like a right let-down!
OR
Everything back to normal at the club so club night this Wednesday from 630pm and Sunday social from 10am... Hopefully see you there..
Here's to a great year of tennis and fun on and off the court.
Have a good year!!
Brian
Brian Love
Head Coach
Dorking Lawn Tennis & Squash Club
07712 557076