Club Night Newsletter - 5th June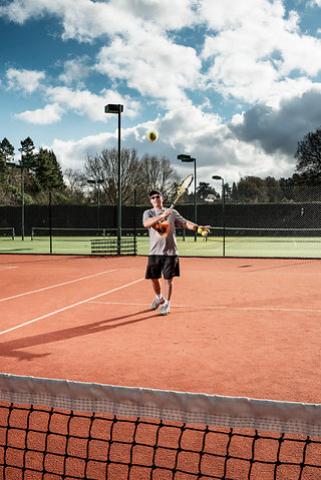 Hi Everyone
How Exciting!!! Konta into the semis of Roland Garros. Her game has improved so much. She is moving better, serving better & volleying better with more variety on her groundstrokes. She is looking really comfortable on the clay and hitting so many winning shots, this is going to be good on the grass.
Murray is back!! Playing doubles at Queens with Lopez. He is feeling great. Guess he's regretting the tears and retirement dramas a while ago!
Club News
Well done ladies 3rds v Reigate. A hard fought draw. (Emma N, Janette M, Catherine J, Jane F)
Well done Mens 1 getting a 2-2 against Putney 3. (Tony D, Russ G, Luke P & Tim E)
Well played girls u14 beating West Horsley. (Emma W & Emily E)
Well played boys u14 beating Horsley sports club. (Hugh C-J & Max O)
Well done to juniors Izzy B & Emily E winning their Surrey postal matches. Good luck in the next round.
Club tournament in full swing.. Remember to get your matches played and the plate matches too! And to email or text your results to me please! Here is a link for scores & draws...
http://lta.tournamentsoftware.com/sport/tournament.aspx?id=65251AEF-C966-4EEA-916A-32A3BFEEBB97
Over 60s county match v Notts this Sunday. Bar open from 12 with match starting 1pm so come and support.
Remember chilli being served this Wednesday at club night so if you would like to guarantee a portion then get your name down on sheet in club house. It always helps the social committee rather than guessing numbers! You would hate to be disappointed!
Happy Birthday this week to Roberto Mackenzie. The man's a walking miracle!! You Monkfish!!)
Courts being maintained this week and next so prepare yourself for a slightly slower ball and a few more funny bounces than usual as the extra clay beds in. Remember it is for the best of the courts over time. You would hate for the membership fees to go up if the courts have to be replaced earlier. I've had an idea.... How about embracing the challenges on court rather than......
New beginners group starting this Sunday 2-3pm. 1 space left so if you know anyone then please get them to contact Brian on dorkingtennis@gmail.com
General News
Big thank you to everyone that prayed for Liverpool in the champions league. Not the best match but who cares if you are a reds fan!
Controversy as Trump visits UK. I guess we have to keep USA sweet as far as trade deals go but what a nob!
On a more fun note.... Love Island is back!!! Don't miss it 9pm itv2 nightly!!
Cocktail of the Week - Spread the Love
Coaching Tip of the Week
Vary the length of your shots on the clay courts. Most players are happy to stay behind the baseline. Use the shorter slice to keep the ball low and then push them deep into the open space.
Look at sneaking into the net rather than traditional approach. Traditional gives your opponent time on the slower court. The sneak is more of a surprise and may fluster your opponent!! Shneaky Shneaky!
Picture of the Week
This was drawn in the clay by one of our 5 year old girls on the tennis camps. Great hairstyle! Very creative!!
Relationship Quote of the Week
Having a chat with 1 of our junior members (11) about his girlfriend..
" How's it going with your girlfriend?"
" Not sure... ok I think..."
" When did you last speak to her??"
" About 8 months ago!!"
" Oh that doesn't sound so good!"
" Yeh maybe you're right!"
The love lesson is keep communicating!
 Don't forget club night from 630 - 930pm Wednesdays, and Sunday morning 10 - 12pm.
Have a good week
Brian
Brian Love
Head Coach
Dorking Lawn Tennis & Squash Club
07712 557076