Club Night Newsletter - 25th March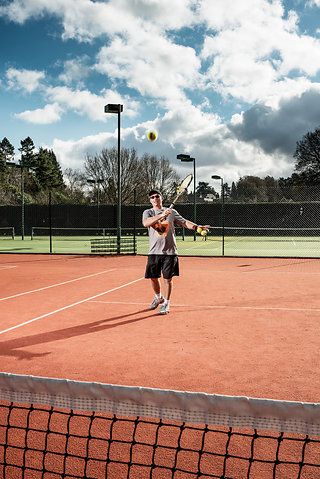 Hi Everyone 
Hope you are all bearing up with the current situation. This newsletter seems to be my connection to the world. Lockdown with my girlfriend and 3 boys wasn't so appealing so it's just me & Marvin against the virus! 2 weeks now since I've seen my girls and now the ex mother in law is down as she's on her own and now I can't risk her getting anything!! We love exes and their thought processes! 
It's a shame that sports clubs are shut as health and fitness such a positive part of life but if we all behave and get on with lockdown we will all be back on court sooner than later. It's like, "If you don't do your homework, you can't go out to play!" 
Our club have made the sensible decision to shut the courts. You may be thinking, "Well if I just pop down for a hit it'll be fine cos it's just us..." But what if others think the same, then it's a gathering. The bigger picture is the most important thing and I got a feeling that this situation is going to get much worse than we imagine sadly.  
Things you can do while you are on lockdown...
 Check out some new playlists on spotify
 Use up your least favourite fragrances as there is no one to impress!
 Check out some good netflix or amazon prime box sets
 Post ridiculous vids on facebook
 Do the joe wicks workout at 9am each morning on youtube
 Watch endless archive sport 
The main thing is that we have all this time that we may never get again to do some stuff we may not normally do. Imagine what it will be like as things go back to normal... Travelling again, Socialising again, Tennis again, Parties again. I'm just glad I don't live near my mum or she would be insisting on cutting my hair again! I couldn't stand another bowl haircut! 
A big shout out to everyone in the community that is volunteering with meals, deliveries, nhs activities. Legends. And big hugs to anyone suffering a bit..... 
Roger Federer has just donated 1million Swiss francs to families in Switzerland that are in need... His perfections just live on! 
Joke of the Week 
Just been in Morrison's and watched a bloke buy all the mussels, crabs, prawns & lobsters... What a shellfish b*****d! 
Quote of the Week
Inspirational Video of the Week (extracts of Team GB Davis Cup road to victory)  
So stay safe and healthy during this tough time and hopefully we will be back on court making unforced errors and hitting double faults and cursing ourselves as soon as possible. 
Cocktail of the Week (We need it!)
Brian 
Brian Love 
Head Coach
Dorking Lawn Tennis & Squash Club
07712 557076