Brian's Newsletter - 17th November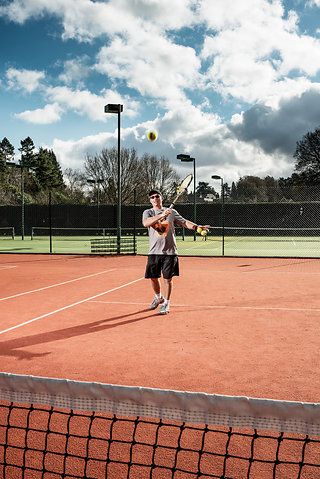 Hi Everyone 
What a lovely day.. Hopefully you have made it out for a game of tennis in the sun. A nice crisp evening for club night from 630pm. We must embrace the nicer weather, cos it won't be long til it cools down a bit! 
Cameron Norrie has just been drafted in for the ATP finals in Milan. Tsitsipas had to pull out. Norrie will play Ruud this evening at 8pm. You can see the ATP & WTA finals on Amazon Prime... Worth a watch. 
Club News
Hard luck to Men's 2nds who took a defeat to Cobham at the weekend. 
Juniors are up and running in their winter leagues..
U18 girls lost narrowly to Kingswood
U14 boys beat St. George's Hill
Welcome to our new members who have joined recently and hopefully you are settling in. It's great to see some of you practicing, playing in group coaching, having some individual lessons and playing in our club social sessions. The magic of our club is our inclusivity and how friendly and welcoming everyone is.. Feel free to snitch on any of our members who let themselves down and drop below our friendly high standards! 
A little reminder to our members of the times of our club sessions....
Wednesdays 630-930pm - Just turn up...
Saturday 2-330pm - book online
Sunday 930-11am - book online
Obviously, if there are players playing on their slotted time before the sessions then respect that they would probably like to finish their matches up to their allocated booked time. It may come across as a bit rude to walk onto their court uninvited. It may also be friendly and respectful to ask if it is ok to enter the court at your allocated time slot. 
A reminder that club sessions are for everyone and in the context of life and club spirit and all round respect, we accept playing with all players. As coaches at the club we make huge efforts all day to make people feel welcome and confident around the club. Our main hope is that our positivity and acceptance of all players is subliminally transferred to our amazing members.... 
Remember the beer festival next weekend (Friday, Saturday, Sunday)... Should be a good social..
Quiz night 4th December... Tennis chairman Will "Bob Holness" Edge ....another good social...
Which English city was once known as Duroliponte? (no googling!)
Christmas Party soon... Sunday 19th December.... another good social.
Don't forget the coffee machine in the club house... It takes card payment!!
Thought of the Week
Coaching Tip of the Week
Stay calm after each point... Check your strings, turn away from your opponent, take your time before you are ready for the next point. Sometimes you cannot help releasing some negative energy with the ups and downs of playing tennis, but calm wins! I've learnt that on the racket ball court after going through about 8 rackets through frustration. 
Random Interesting Fact from a Member
Next to the pathway at court 7 there is a grassy area. Normally in June, July there are bees flying around this area. It is their ground nesting and they are known as yellow-legged mining bees, Andrena Flavipes, a solitary bee very common in Southern England!... Thanks You Nasreen!
Cocktail of the Week ( A tribute to Scotland's massive win over Denmark!)
Have a good week and keep embracing the tennis journey with a smile..... 
Brian
Brian Love
Head Coach
Dorking Lawn Tennis & Squash Club
07712 557076