Brian Love - Winner of the MVDC Active Surrey Coach of The Year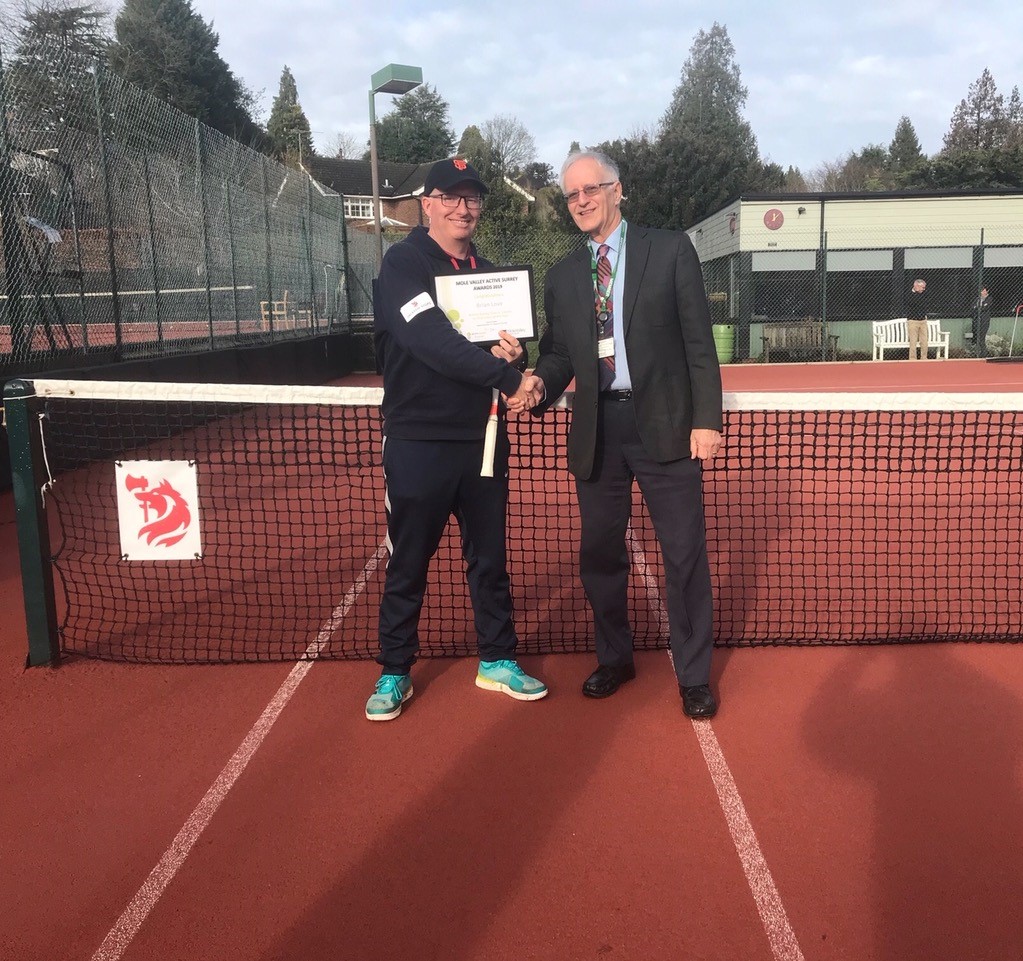 Brian Love receiving his award as the Mole Vally Active Surrey Coach of the Year for 2019.
The picture shows Brian receiving his certificate from Councillor David Draper, Cabinet Member for Leisure & Tourism.
Needless to say Brian is 'chuffed to bits' with this award and one of the few times I have seen him speechless!
---
---
Active Surrey Coach, Leader or Instructor of the Year 
This award is for an individual who has: 
1. Made a positive impact by increasing participation and/or inspiring & encouraging others to improve in their sport/activity 
2. Enabled personal or team achievement 
3. Evidence of personal development in the last 12 months 
4. A professional approach with excellent dedication (please include if the coach is a paid or volunteer coach and the number of hours spent coaching/instructing per week) 
Winner:  Brian Love 
Dorking Lawn Tennis & Squash Club are nominating their Head Coach – Brian Love - for this award.
Brian has been with The Club for 18 years in which time he has transformed coaching standards across all aspects of tennis at The Club per se.
Perhaps best to start with the youngest members of DLTSC – future champions in the making!
• He has created amazing links to local junior schools where he has local tournaments for them and has brought the sport to schools where tennis is often not in the timetable. This year under his coaching junior member Izzy Barlow won the Surrey Tennis U14s Junior Trophy & came runner up in the U16s final!
• The Junior Teams were also coached to Surrey League success and he coached The Surrey Youth Team to achieving the Bronze Medal • Summer saw yet again Brian organising and overseeing the greatly attended and successful Junior Summer Camps, bringing tennis to more juniors during the school holidays. • The afterschool Friday junior club night is very popular with the juniors; it is run by Brian and between 40 and 50 children attend on regular basis, with numbers growing
Turning to Adults:
• Brian has coached a number of players to County/National standard but by his own admission is still looking for 'The Golden Nugget'! He runs Cardio Tennis sessions to encourage and promote healthy living for not only Adults but also Juniors. A recent programme is for 'Rusty Rackets and Beginners' to encourage lapsed or new players onto the courts He is also closely linked to tennis coaching at The Grange – the centre for adults with learning difficulties and coaches a number of the adults on a regular basis.
Amongst all of this Brian still finds time to fit in a couple of Tennis Holiday's abroad each year with keen Club members.
Brian gives much of his time on a voluntary (non remuneration) basis to both Adults and Juniors and generates a fun and informative weekly newsletter to keep all players updated on club news and events Brian is a true inspiration not only to the game of tennis but also to all members – Adult and Junior – of The DLTSC